Power Supplies Designed For You
The Power Supply is one of the most important parts of an induction system. Ajax TOCCO Magnethermic leads the way in the development of power supply technology. We manufacture, upgrade, service, and replace an extensive range of power supplies. Our solid state power provides reliability, quality, and efficiency, resulting in power savings for our customers. We offer a variety of IGBT, SCR, and MOSFET conversion control with wide conductance ranges and Powershare options to meet the demands of all applications. No job is too big or too small. Our experienced application engineers analyze each job and recommend the most effective power supply according to the job parameters.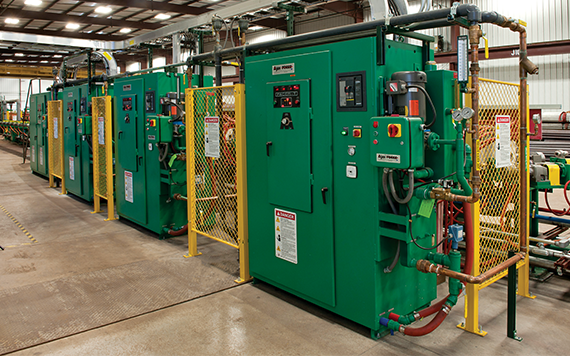 Power Supply – Frequency & Power
Why do you need an induction power supply?
Utility companies typically supply 3-phase, 50 or 60 Hz (main frequency). Induction power supplies convert the input voltage to produce the power and frequency required. The frequency required depends on the alloy you're trying to heat or melt and the size and dimension of the workpiece. The frequency determines the depth that the induced eddy currents penetrate. Thicker cross-sections of materials will typically have lower frequencies and smaller cross-sections will move to higher frequencies. It's important to optimize the power supply to achieve the correct power and frequency for the job at hand and ultimately have the most efficient overall system. Ajax TOCCO considers all the factors and elements for each job to recommend the correct power supply solution for your business.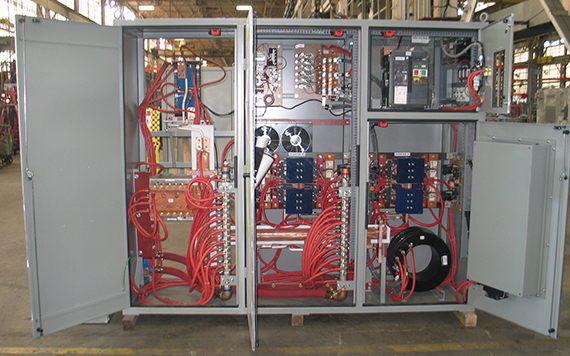 Induction Power Supplies
Our power supplies are manufactured in-house to ensure our high standards of quality and craftsmanship are included in every power supply built. We not only supply and support the power supplies shown below, but we also fully support and can replace our existing power supplies such as the Lead Lag, High/Low, Phase Balancer, Inductron PT, Induction II, Pacer S10, and Pachydyne for existing customers.